Golf simulators are becoming increasingly popular. But are they actually fun to play? Playing golf on a simulator may not be as fun as playing the game in reality, but it can still be enjoyable.
The simulator allows you to play the game however you want, which can make it more challenging or easier. Some people find that the simulator allows them to improve their golf skills faster than if they were playing in person. 
Others find that it is more relaxing and fun to just sit back and swing the golf club at home without having to worry about other golfers' turns. Moreover, when the weather isn't good or you don't have much time to drive to the golf course, golf simulators are a great solution.
Whether you're a pro or a beginner, golf simulators offer a realistic experience that can improve your game. Many golf simulators offer great features, such as the ability to play on different courses and track your progress. Let's know more about golf simulators and decide on your own whether it is fun or not.
Golf Simulators' Major Materials That Create Realistic Feel
There are several materials that go into creating a realistic golf simulator experience. You have the option to buy these materials separately and build your own home golf simulator. Or you may buy a simulator package to save yourself from extra work.
1. Launch monitor
The launch monitor is one of the major parts of a golf simulator. It uses sensors, cameras, and radars to track data. This allows players to improve their golf game by tracking their shots.
Depending on the type of launch monitor, it tracks different kinds of shot data. Quality launch monitors are capable of making your shots more accurate.
2. Net or Screen
Net or screen is also an essential part of a golf simulator to make it fun. You may need one or both of them. Playing with a net is not as fun as playing with a screen in a golf simulator.
A golf simulator without a screen is like playing in the dark. You can see your club, but you don't know what you're doing. With a screen, it instantly displays your shot. You can correct your mistakes easily.
3. Projector
Whether you're a beginner just getting started in the game of golf or an experienced golfer looking to hone your skills, a golf simulator projector can be a big help.
By projecting an image of a virtual golf course onto a screen in your home, you can get a realistic view of where your shots are heading. This gives you a better chance of hitting the ball where you want it to go and improving your game overall.
4. Hitting Mat
Though hitting the mat is important for providing a realistic simulation, it is optional in a golf simulator. Playing on the golf hitting mat replicates the feel of playing on fairway grass, which is the preferred surface for many golfers.
A hitting mat also helps to control your ball flight better, so you can improve your shots and play to your fullest potential. Many golfers feel that practicing on one improves their skills. 
How Golf Simulators Work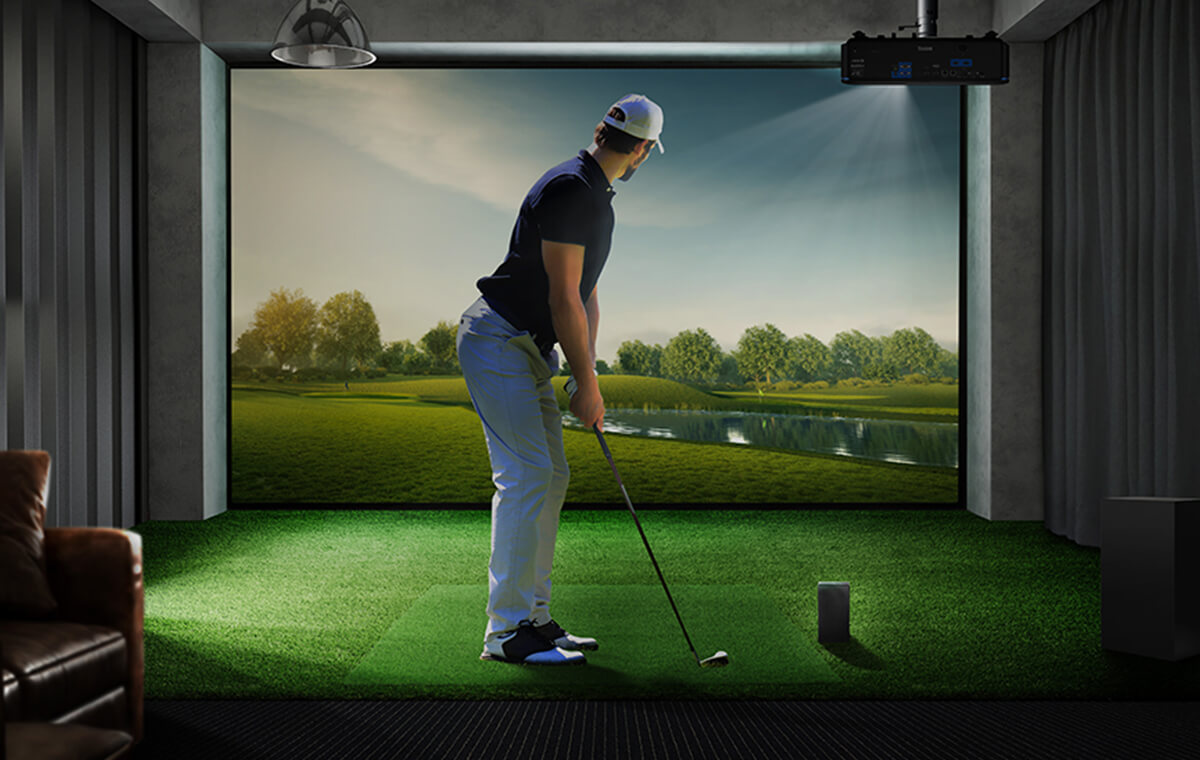 Golf simulators have been around for years and have evolved to become more realistic. Simulators use a variety of technologies to create an accurate simulation of a golf course.
They use a system to generate a live or virtual golf course and then players can use the system to practice their swing. You hit the ball toward the net or screen. The mat gives the feel of grass while hitting the ball.
Golf simulators use software, sensors, cameras, radars to measure shot data details. Usually, a PC or smartphone is used for the software. The sensors input the golfer's movement and hitting data into the software, which then calculates how far the golf ball traveled, how much spin was added to the ball, and other data related to shots.
Simulators use algorithms to create an environment that closely resembles a real course. What data a golf simulator will provide depends on the type and quality of the simulator.
The Advantages And Limitations Of Golf Simulators
Golf simulators have become increasingly famous in recent years, with many people favoring them over traditional golf courses. While they have a lot of advantages, there are also some limitations to consider. You need to know both to understand what to expect from a golf simulator.
Advantages
Golf simulators allow you to practice your swing at home at any time. You don't have to worry about weather conditions or the time. You can even play late at night after coming from the office as a form of exercise.
Golf simulators allow golfers to play at their own pace without having to worry about being disturbed or waiting in line.
This is especially helpful for beginners, who may not want to waste time waiting on others. It can be used to improve one's short game and overall play. They are also great for people who may have missed time playing golf due to physical or mental health issues.
With the help of these simulations, you can golf on any course that you want to. This is a great way to get a taste of a course before actually playing it.
By doing that you can challenge yourself and see how your skills compare to those of other golfers. It can also help you learn new aspects of the game.  
Limitations
Simulators are great tools for developing golf skills, but they don't always accurately represent the real world as a golf course would. For example, a simulator can't simulate exactly how the ball will react in different conditions on the course.
They also cannot accurately predict how a windy day will affect a player's shot. When it comes to recovering the bunker shot or playing uphill or downhill, you can't have real experience with a golf simulator. It is also a concern that sometimes the sensors may detect the data wrong.
Second, they can be expensive. Though there are options in different price ranges, it is still expensive for many golfers to reach.
Conclusion
Golfing on a simulator can be a fun experience for golfers of all levels. It can help improve your game by allowing you to practice in a variety of conditions, and it is a great way to spend time with friends or family.
But whether or not you decide to play golf on a simulator is up to you, but hopefully, this article has helped you make a decision.